Who is Whidbey Millhouse?

Allow us to introduce ourselves...
As a family-owned and operated millhouse, we offer the legacy of five generations of mill workers in the Pacific Northwest lumber business. Located on the south end of picturesque Whidbey Island, we provide our clients with a high-quality, sustainable alternative to large chains mass-producing low-quality wood. As a small business, we take pride in getting to know our customers and helping their vision come to life. Our team strives to make every project an exceptional experience from start to finish – whether we're building outdoor wood ceilings for your back porch or creating custom flooring for your home. We want to make something you can be proud of – for years to come.
Our Mission
Because we hand select and precision cut each piece of wood that comes through our doors, we're able to guarantee a top-quality product every time. Our ability to offer rare and unique lumber, alongside our commitment to premium quality materials, sustainable forestry, and customer service, enables us to offer our clients both a product and an experience that is hard to come by.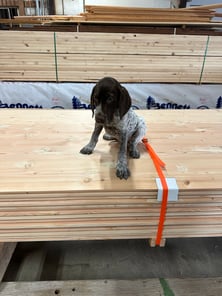 What we do
At Whidbey Millhouse, we approach every project as something completely unique. It is important to us that our client's vision is executed with only the highest quality materials that they can be confident will last a lifetime. Our product is free from fillers, carefully kiln-dried and perfectly suited for everything from historical rebuilds to modern homes.
About the Shop
Our millhouse is located in Freeland, Washington on Whidbey Island right here in the Pacific Northwest. With 12,000 square-feet of warehouse space, we mill all of our products in-house, enabling us to provide an attention to detail and precision in our work you can't achieve in a big box store. We teamed up with Old House Online for a full shop tour. Check it out here.
Explore our product offerings
Experience the enduring beauty and durability of our wood products, as we source only the finest materials and adhere to meticulous crafting standards.
Looking for a different wood species for your flooring project? No problem. We can source many other types of wood upon request.
Join the Whidbey Millhouse family
Elevate your next home build or renovation project with timeless home finishes in solid, natural wood. When you partner with Whidbey Millhouse, you are working with a father-son team dedicated to providing premium materials sourced and handcrafted with care. Let's get started on your next project.