A closer look at sustainable forestry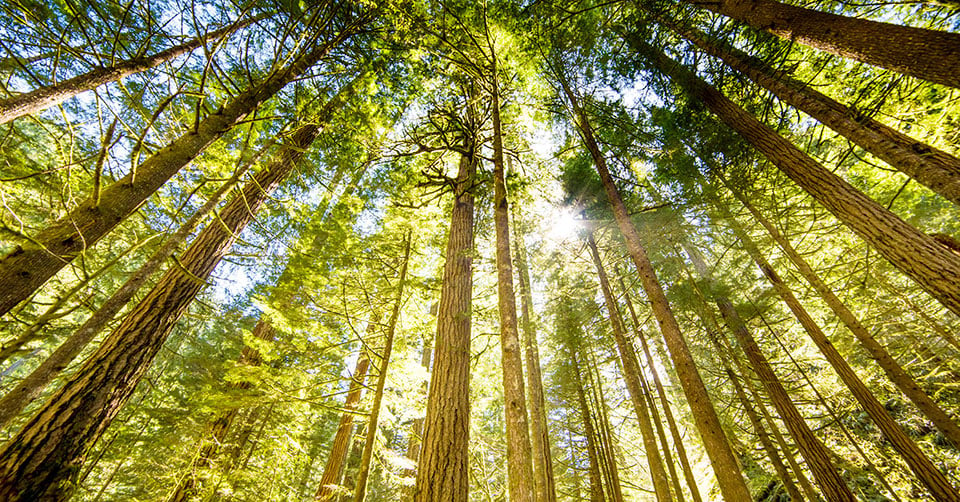 If you look out over the water from a Washington State Ferry – or even take a stroll through your own backyard – you are sure to encounter one of the most treasured symbols of the Pacific Northwest: evergreens. These towering trees grace our landscapes with year-round greenery and have quite literally built many of the structures we call home.
Unfortunately, in a world so often driven by mass production and environmental disregard, aggressive logging has placed a strain on the environmental stability of the land on which these trees once stood and the long-term availability of this once bountiful material.
At Whidbey Millhouse, our love for this region means that we want to embrace the beautiful opportunities Pacific Northwest lumber offers to our living spaces while also keeping sustainability at the forefront. And we have a sneaking suspicion that you feel the same way…
So today let's take a closer look at sustainable forestry, and the core strategies that will keep Pacific Northwest evergreens abundant for generations to come.
Certifications that make an impact
The first and most foundational step of practicing sustainable forestry as a millhouse is ensuring your wood is sourced from Sustainable Forestry Initiative (SFI)−certified mills. SFI is an independent, non-profit organization with the mission to "advance sustainability through forest-focused collaboration." Their diverse Board of Directors works closely with an independent body of experts to develop rigorous and comprehensive standards that promote the conservation of biodiversity, sustainable economic development, and other critical sustainability goals.
Then, organizations, like those who manage forestland or source and process forest-based products, have the opportunity to receive an SFI certification by demonstrating their compliance with these standards to an independent third party. An SFI certification gives buyers peace of mind that their suppliers uphold the highest standards to conserve wildlife and water, practice climate-smart forestry, and support relationship building with Indigenous Peoples.
The power of local relationships
In addition to certifications, location is another important factor when choosing where to source your wood. Local, family-owned mills are more sustainable both in terms of the resources required to transport materials from the source to the end location and in the economic support you are providing to your local community. Building strong relationships with local mills also allows you to get a close-up look at how responsibly they plant, grow, and harvest.
No branches left behind
Now that we have covered sustainable sourcing, it's important to consider what happens to the wood once it enters the millhouse. Even with sustainable practices throughout the creation process, the fact remains that growing and logging timber is resource intensive. That's why it's critical to make sure every piece of raw material gets a second life.
Scrap wood can be donated to low-income residents of your local community to provide an alternative source of heat during the chilly winter months. Even sawdust shavings can be repurposed as ground cover at dog parks, cozy bedding for pets, or compressed into clean-burning energy logs.
When we take the time to find uses for all of the "leftovers" from our building materials, we are giving proper respect to the resources and efforts it took to make our beautiful natural floors, sidings, and ceilings a reality.
Premium natural materials today and tomorrow
Only with good stewardship and forest management, can we expect our treasured renewable resource to continue into the future. That's why we have centered our commitment to sustainability and compassion at the core of everything we do at Whidbey Millhouse. If you feel the same and you have a building project in mind, let's chat.
Join the Whidbey Millhouse family
Elevate your next home build or renovation project with timeless home finishes in solid, natural wood. When you partner with Whidbey Millhouse, you are working with a father-son team dedicated to providing premium materials sourced and handcrafted with care. Let's get started on your next project.
Find us on social